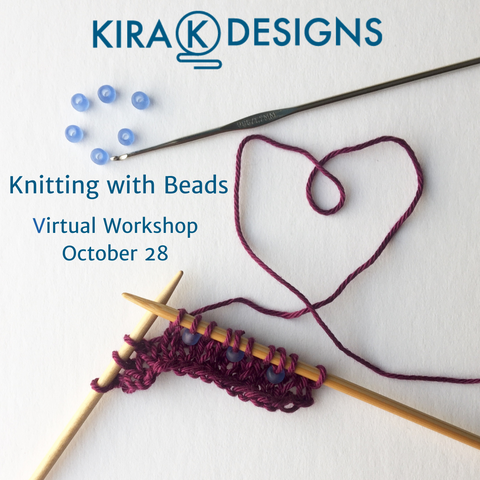 Beads can add incredible texture to your knitting, and there are many different methods to explore. Kira will show you how to do a simple beaded cast-on, then four different ways of placing the beads on your knitting (and making sure they show on the correct side). Come explore this fascinating technique, and get inspired to add beads to all kinds of projects!
This workshop will take place on Zoom and registered students will receive the link two days in advance. Students will receive a handout as well as the slides shown during class, and will have the opportunity to ask questions during the workshop. The workshop will not be recorded and students do not have permission to record it themselves, but videos are available on YouTube to supports students after class.
A Note on Pricing: There is a sliding scale for low-income makers, on the honor system, and a generous person has offered to sponsor a low-income student by paying full-price registration for them.
Materials Needed: It is suggested that you order a materials kit to be sure you have all the supplies, in which case you only need to provide knitting needles in size 4-6 (depending on whether you are a tight or loose knitter). If you want to provide your own supplies you will need knitting needles in size 4-6, 30 yards smooth sturdy sport or DK weight yarn, big-eye beading needle, size 6 (1.6mm) crochet hook, 50 size 6/0 beads, and 20 size 3/0 beads. You may want to print out the handout that will be emailed to you two days in advance and/or have note-taking supplies.
Teacher Background: I have worked in the yarn industry since 2002, as a yarn shop employee and later manager, teacher, pattern designer, and event host.
Cancellation Policy: If the organizer cancels for any reason, students will be offered a choice of rescheduling or receiving a full refund. If a student cancels before receiving the class handout (two days in advance) they will receive an 80% refund.
---
More from this collection